VS
Why we like them: Now this is a rivalry. Dodgers and Giants. You can actually feel the tension by simply reading those words together in the same sentence. Back in 2001, this rivalry reached a point where it needed something besides a steroids-infused mutant slugger to shed some light into these two clubs' hatred for one another.
Marvin Benard, a surprisingly good and amazingly annoying platoon outfielder, decided it would be a good idea to run over LA catcher Chad Kreuter to score despite the fact that he probably had to go out of his way to do so. What a jerk.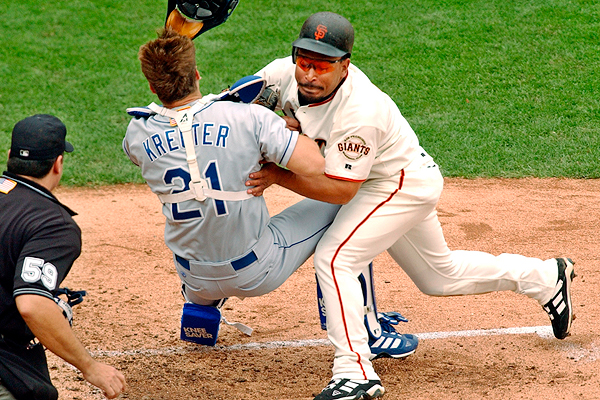 Benard played for 9 seasons in the majors, all of which with the Giants. He was a career .271 hitter and even posted a .322 average in 121 games in 1998. Kreuter played for 16 seasons with 7 different teams and made a name for himself as a light-hitting but competent backup catcher that might have been a useful asset on every third day if your team already had Paul Lo Duca. Both retired in 2003.

Happy Opening Day 2013, everyone.
Ladies and gentlemen, Chad Kreuter and Marvin Benard, ballplayers.