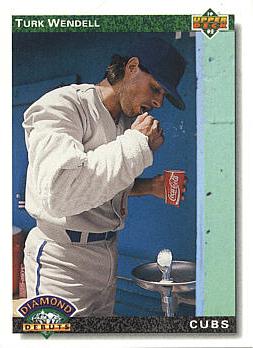 Oral hygiene is more important that fastball command.
Why we like him:
How can you not like him when he's quoted as saying stuff like this: "I only wanted a few things out of life -- a wife, children, to play baseball and to hunt deer." Well okay then!
He was also renown for being one of baseball's most superstitious players of all time. He made Mark Fidrych look ordinary and made Darren Daulton look sane. Here's his single-inning routine:
Chew four pieces of black licorice
After the final out, spit them out
Take a flying leap over the baseline on the way back to the dugout
Brush teeth
Repeat until the manager yanks you
What did ritualistically following all those superstitions get him? A 36-33 career record, a 3.93 ERA, 33 career saves, and a .070 batting average just for fun.
Ladies and gentlemen, Turk Wendell, ballplayer.