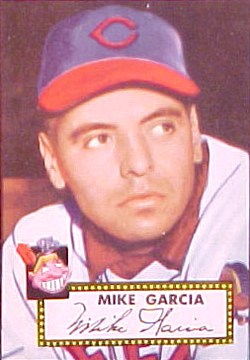 The Indians logo is even staring at this dreamy stud muffin.
Why we like him: Mike Garcia was a three-time All Star, and he won 20 games twice in his career. That coupled with his 142-97 career record over 14 years tells me he had a pretty decent go at it in the big league. However, the best part about Garcia is that his nickname was "The Big Bear." He was a hard-throwing righty who was named one of the Top 100 Greatest Indians in 2001 (which is an honor, I guess), and was even voted into the team's hall of fame in 2007. Good for you, Big Bear.
Ladies and gentlemen, Mike Garcia, ballplayer.